Accommodation
Kunstmuehle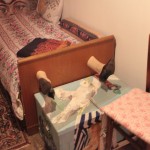 In the Kunstmuehle you find several beautiful rooms of different size and comfort. Rates and further information can be found in the table below. On www.kunstmuehle-veckenstedt.com/vermietung you can also see photos of the rooms.
There is also a number of beds available in the dormitory. Over the New Year's Event it is also possible to stay at the remise (sort of an attic) with your matress and sleeping bag. Then, the remise will be heated by a wood stove.
Accommodation at the Kunstmuehle can be booked via the registration form.
Holiday Rooms/ B&Bs
You are well advised to book the reasonably priced accommodations in and around Veckenstedt well in advance. Ilsenburg and Wasserleben are both within very short driving or riding distance, Wernigerode is about 10 minutes by car. If you look at www.ilsenburg-tourismus.de, or type "Gästezimmer Ilsenburg" in Google you will find quite a number of rooms.
Even if we update this list on a regualar basis, we do not always know about recent changes. So, if you find an interesting new spot or that some information might be outdated, we would be happy to get your advice.

For accommodation in the Kunstmuehle, Edda Grossman will contact you. Otherwise you can contact her at post@kunstmuehle-veckenstedt.com. Here you can find the current price list.
Holiday rooms and B&Bs in and around Veckenstedt (prices per night as known):
Name
Address
Rooms
Rates
Contact
Edda
Grossman

Kunstmühle
Veckenstedt
Veckenstedt
Str. der
Technik 6
1 Wedding suite with 1 double bed + single bed + own shower/ toilet
€ 33 p.p. / night

4 double rooms with double bed + own shower/ toilet
€ 28 p.p. / night

Family room 1 with 1 double bed and 1 single bed + communal shower/ toilet

Family room 2 with 1 double bed and 1 single bed + communal shower/ toilet

Family room 3 with 1 double bed and 1 single bed + communal shower/ toilet (extra bed possible)
each € 28 p.p. / night bzw. € 23 p.p. / night with 3 pers

1 Single room with 1 single bed + communal shower/ toilet
€ 28 / night

Dormitory
11 single + 1 double beds (incl linnen + towels)
€ 18 p.p. / night








Reservation
via
PartouTango

info@partoutango.de
0178-1806043
Ferien- wohnungen Fam. Bardy
Veckenstedt
Kurzer Stieg 2
Holiday flat 01 2 pers.

+ extra bed possible


Holiday flat 02 1 pers.

with 2 pers.


Holiday flat 03 4 pers.

+ extra bed
€ 45 /night

€ 7,50 / pers.

€ 35 / night

€ 40 / night


€ 70 / night

€ 7,50 / night
039451-241

olaf.bardy@web.de


Reservierung über PartouTango
Schwarzer Hirsch
Veckenstedt
Ilsenburger
Str. 1
3 double rooms
€ 40,00
039451-859
0170-2424859
kontakt@schwarzer-hirsch.de
Schlömer

Veckenstedt
Mühlenstr. 16
Room w 2 beds (extra bed possible)
€ 15,00 / pers.
039451-4088
Fam. Keck
Veckenstedt
Ilsenburger
Str. 27
Room w 2 beds
€ 15,00 / pers.
039451-5895
Isolde Bindseil
Veckenstedt
Ilsenburger
Str. 28
039451-864
Wasserleben
5-minute's drive
from the
Kunstmuehle
"Domaene"
Wasserleben
Gutshof 2
1 double room
2 triple rooms
4 4-bed rooms
€ 15.00/ pers.
039451-4666
039451-248
Pension
"Land-Wirtschaft"
Wasserleben
Straßer der MTS 21
doble and triple rooms
dormitory
€ 20.00/ pers.
039451-636308
0176-65679807
"Ferien auf dem Schwalbenhof"
Wasserleben
Vor dem Tore 2
holiday flat
039451-292
0160-6134824 lore.muche@web.de
Perla
Wasserleben
039451-396
Lindemann
Wasserleben
Bahnhofstr. 58
039451-271
Jutta Lindemann
Wasserleben
Krähenhöfen 2
B&B: 2 double, 1 triple rooms
dormitory (6 beds)
€ 20,00/ pers.
039451-239
0176-65679807
Minnekenhus
Tina Siebeck
Wasserleben
Kulk 10
guest house/ pilgrim's hostel

€ 20,00/ pers. (€ 17,00 with 5 days or more)
039451/636483
tina@minnekenhus.de
www.minnekenhus.de
Ilsenburg
6-minute's drive
from the
Kunstmuehle
Pension 'Stellwerk'
Ilsenburg
Karl-Marx-Str. 1 (Bahnhof Ilsenburg)
039452-209916 or
0160-99339028
www.stellwerk-ilsenburg.de
Pension
Stadt Hamburg
Ilsenburg
Karl-Marx-Str. 16
039452-2211
Fam. Schließer
Ilsenburg
Schickendamm 5
039452-99193
www.gaestezimmer-schliesser.de
Altstadthotel
Ilsenburg
Wernigeröder Str. 1
double and single rooms
€ 38 to € 55 p.p./ night
039452 / 48990
Kloster Drübeck
Drübeck
Klostergarten 6
38871 Drübeck
double and single rooms
double room € 30,00/ pers.
single room € 45,00/ pers.
039452-94 332 or
039452-94 334

reservierung@kloster-druebeck.de
Osterwieck
12-minute's drive
from the
Kunstmuehle
Hotel
'Brauner Hirsch'
Osterwieck
Stephanikirch-
gasse 1-2
double and single rooms
€ 38 to € 52 p.p./ night
039421-7950
info@hotel-braunerhirsch.de