English
Tango Crosswise
08 – 10 March 2019

Role Change with Joy!
You love to dance both roles, enjoy the swap or you are simply courious to trying it? Well, then you should just join the Tango Crosswise experience!
Everyone can potentially dance with each other = double joy for all ;-).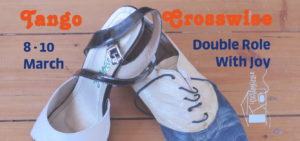 Registration open now!
DJs
Julija Zaiceva
Sabine SASA Ranke
Pieter van Gendt
Andreas Reichel

Cross Labs
Ines & Andreas
more coming soon…

Extra
Morning Body Work – Feldenkrais with Ute
Tango Flea Market
Price
110 Eu
The ticket includes all milongas, tango cafés with coffee and homemade cake, all crosslabs, brunch and dinner incl drinks, fresh drinking water, fruits, body work in the morning. Accommodation and drinks at the bar are not included.
Program
Freitag
Friday
Samstag
Saturday
Sonntag
Sunday
09:30 - 10:30
Wake up body work
Feldenkrais mit Ute
09:30 - 10:30
Wake up body work
Feldenkrais mit Ute
10:00 - 13:00
Brunch
10:00 - 13:00
Brunch
17:00 - 19:30
Willkommen / Welcome ;-)
Coffee, Cake & Music
13:00 - 14:00
Cross Lab
Ines & Andreas
Wechselwerkstatt Creative Role Swaps
11:00 - 12:00
Cross Lab
14:00 - 19:00
DJane Julija Zaiceva

ab / from 15:30 Uhr
Coffee & Homemade Cake
12:00 - 17:00
Tango-Brunch-Café
DJane SASA
17:00
Abschied / Farewell ;-(
19:30
Abendessen / Dinner
19:30
Abendessen / Dinner
21:00 - 2:00
DJ Andreas Reichel
21:00 - 2:00
DJ Pieter van Gendt
Nos vemos, Your PartouTangueros
*
Next PartouTango Event
PartouTango New Year's Event
27/12/2019 – 01/01/2020